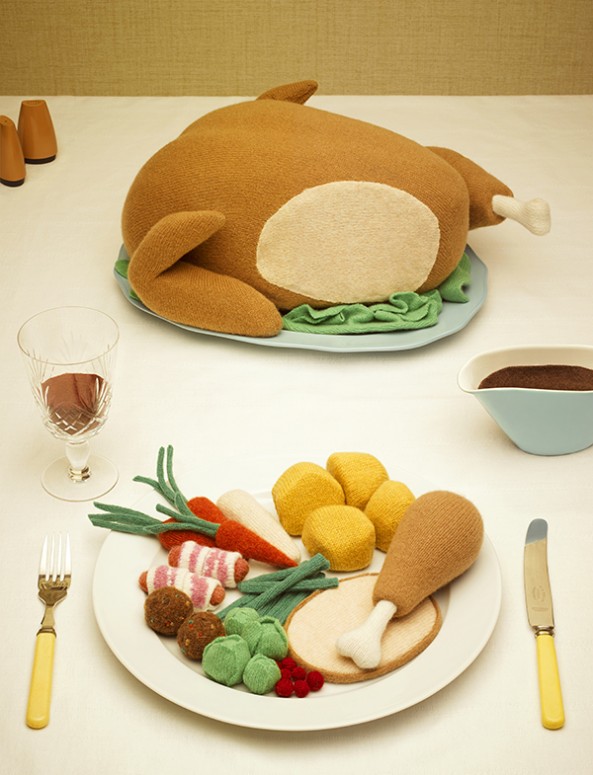 images © David Sykes 2013 All rights reserved.
I've recently been working with an amazing model maker and prop stylist, Jessica Dance. Her speciality at the moment is creating objects made of wool.
We've been working on a few woolly projects together and whilst shooting our "Woolly mammals" series both of us mentioned that we wanted to create an image for Christmas.
I love shooting food and I always want people to do a double take with my images and spend some time working out what's unusual about them. Over the past few years I've been creating faux food shots; taking classic food shots and recreating them out of everyday objects. This is where I came up with idea of using Jessica's fantastic wool craft to turn a traditional turkey Christmas dinner into a woolly feast.
I knew the food Jessica was going to produce would look great but it wasn't until she brought them round the studio did I realise how beautiful they would be. Some of my favourite pieces are the pigs in blankets, with it's handmade bacon rashers, and the turkey itself with its perfectly designed drumstick. I wanted the photo, at first glance, to have the feel of a classic food shot, with it slowly revealing its true colours as you realise that something is not quite right. It was quite a challenge to light it and show off all the texture whilst keeping the warm and cosy feel of the wool.
Who'd have thought wool food could make you feel so hungry.
We Loved the final shot so much we decided to make it into a Christmas card to send out to friends and Clients. I wanted a unique greeting for the inside of the cards and came up with the line "Have a warm and woolly Christmas" Which was great, but I also wanted it to have a wool theme. So, I asked Maddy from Vue, who has been wowing me with her excellent typographic illustrations for a while now, to design a illustration for the inside. What she came up with was fantastic, and the card was ready to wing it's way to our friends and clients.
image © Madeline Macrae 2013 All rights reserved.
It's been a great project to work on and a chance to collaborate with some talented makers!
Hope you all have a warm and woolly Christmas and I look forward to sharing with you all of the new and exciting projects I have lined up in 2014!
Watch this space for more of mine and Jessica's woolly faux food.